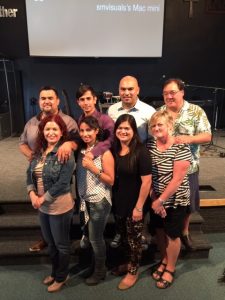 To capture our thoughts from the early days of planning the  La Vina church in Saint Paul, the following is a list of dreams captured by Brian Geraty for the future church. First, we believe the Church exists to extend God's Kingdom and to do the work of the Kingdom.
We dream of a diverse multi-ethnic, multi-cultural and multi-generational church to be a home for spiritually homeless people.
We envision a place where people can begin and build a deep relationship with Jesus Christ and with fellow believers, where people do life together in genuine community, and where people grow spiritually in an atmosphere where the grace of God is highly celebrated.
We dream of a church where real problems are solved and real needs are met as people are drawn closer to God, where people recover from hurts, habits, and hang-ups that prevent them from enjoying meaningful relationships with God and each other.
We dream of a church where God's Word is honored as our highest authority on earth and as the source of real and abundant life.
We dream of a church that joins in a conversation with the world and community around us about matters of faith and life, that is always bringing the relevance of God's perspective to the issues that face us, and that is willing to engage with the honest questions people have about life, death, God, and eternity.
We dream of a church where people serve one another according to the way that God has shaped them, where spiritual gifts, passion, talents, and experiences are a part of how we meet the needs of others inside and outside of our church family.
We dream of a church that matters to its community, that makes a visible, noticeable, and tangible difference on behalf of Christ in the real problems that exist.
We dream of a church that celebrates changed lives, that cultivates an atmosphere of freedom to grow and serve, and that empowers people with the confidence to do so.
Brian Geraty