Learn a little bit about the pastors and people leading La Vina
The leaders at La Vina Saint Paul are committed to intersecting the message of Christ with the people of Saint Paul and surrounding metropolitan area and living their passions in meaningful ways beyond their work at the church.
The leaders at La Vina are passionate about intersecting the message of Christ with the people of the Twin Cities, using their time and talent in meaningful ways as they go about life beyond the church. Our team believes in serving Jesus in all of life.
Jose Ulises Bello, Lead Pastor
Ulises and Reyna are the lead pastors of La Vina Saint Paul. They are the founding church planters of the church in 2017. Ulises and Reyna are also the Siote Managers of the Fruit of the Vine Saint Paul food shelf.
Reyna Bello, Co-Pastora
Married to Ulises with two children. Reyna and Uli are from Mundelein, Illinois and originally from Mexico. Reyna is the better half of Ulises 🙂  She oversees most every area of the church and is a Team Leader of the Fruit of the Vine Food Shelf.
Jaime Ramirez, Youth Leader and Food Shelf Team Leader
Jaime Ramirez moved to Saint Paul, Minnesota to answer God's call to ministry. He is originally from Mindelein, Illinois and an invaluable part of the church. Jaime leads the youth group at La Vina Saint Paul and is a tireless ministry partner.
Teresa Vivara Garcia and Raul Garcia
Teresa is our Children's Ministry leader, Discipleship Group Co-Leader with her husband Raul and passionate for the Lord!. Raul can be found in the audio visual technology role. Through his innovative efforts, LVSP is accomplished in our livestreamed worship services and capable of developing further video messaging.
When you visit the La Vina Saint Paul church you will find this couple everywhere. They lead a wonderful welcoming small group that meets every other week.
Nancy and Gesvin Estrada, Discipleship Group Leaders
Rene and Nancy can be found at most church functions including worship services and our Compassion Outreach through the Fruit of the Vine Food Shelf. They are both leaders at the food shelf and direct a home discipleship group pre-Covid-19 in person and during Covid-19 virtually (Zoom).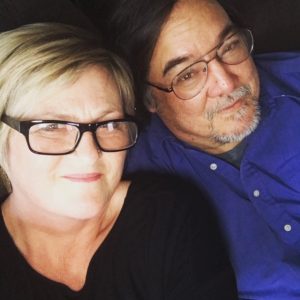 Brian Geraty, Administrative Pastor, Executive Director Fruit of the Vine Food Shelf
Brian and Kim Geraty have been part of the La Vina movement in Minnesota since 2011. The Geraty's have lived in Minnesota since 2006 and have six grown children with 13 grandchildren spread across the world. First planting the La Vina de Burnsville Latino church in 2012 in Burnsville, Minnesota with church planters Miguel and Rocio Aviles from Mundelein, Illinois. From La Vina de Burnsville, Brian planned the a new La Vina church in Saint Paul in 2016 with the church starting in November of 2017 with church planters Pastor Ulises and Pastora Reyna.
Brian and Kim have been part of the Vineyard movement since 1988 first in Colorado than California before coming to Minnesota. Kimberly Geraty, Co-Administrative Pastor, Spiritual Director. Kim is the wife of Brian Geraty and leads the Spiritual discipline emphasis in La Vina Saint Paul.
Paola and Andres, Worship Leader, Commniations and Food Shelf Leaders
Paola is leading the La Vina Saint Paul worship as well as being part of the Fruit of the Vine Food Shelf staff.
Andres is LVSP's communications specialist focused on social media and message development.